GROWING THE NORTH LARGEST CONFERENCE OF ITS KIND IN NORTH

By SVJETLANA MILANAREVIC
Daily Herald-Tribune
The Growing the North Conference, held in the ENTREC Centre at Evergreen Park, brings in people from all over northern Alberta every year and this year was no different as about 400 visitors took in lectures and received information from government and industry.
"As the largest economic development conference in our region, Growing the North is the best opportunity for our business and community leaders to come together to hear and engage with new ideas in order to guide the future of the region," stated Dan Pearcy, organizing partner and Grande Prairie & District Chamber of Commerce CEO.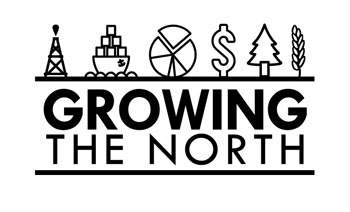 One of Grande Prairie's local businessman who is reaping the rewards of the conference is Yadvinder Singh Minhas, co-owner of the Minhas Group which has holdings in forestry, automotives, and hotels. It is through Minhas' forestry division South Wood Trucking Ltd. that this year's conference proved fruitful.
"Since 2008, the last recession, the lumber industry crashed. We haven't come back on our feet, we're struggling and there is no margin left...For (us) the greatest thing was to learn about the caribou (that migrate through our lands). There are lots of environmentalists that think we should leave a lot more (forest), but it's not a necessity. Because in Alberta, the forests are in much better shape than any parts of the country, like B.C. for example. The Alberta (government) made the requirement that if a company has one million trees they have to put 1,100 trees (on conservation)," he said.
Minhas added the conference is a great way to network, promote his businesses, and learn how to improve his business.
For Dan Dibbelt, executive director for the Peace Region Economic Development Alliance, the conference is so versatile that it suits everybody's needs.
"I think one of the more important part is the networking because it brings in such a diverse crowd of people from the region that you actually have the opportunity to meet with people, to talk to other municipalities to see what's happening there and what could possibly be adopted, and to just make connections here," he said.
"The comments I hear, and I work with all the municipalities in the Peace region, is that this is the conference to go to in the north. One of the key things is that it's one of the few conferences we have in the north of this standard."